Ready to print settings
We provide high print settings with the printer, so you don't have to dive into complex new programs the second you finish the build. You can start printing right away, and this gives you a great head start!
These settings are great for all kinds of objects, not just for a couple of prepared showpieces. After a while, when you're familiar with the printer, you can, of course, dive into tinkering ;-)
We are developing our own slicing software. PrusaSlicer is a feature-rich, frequently updated tool that contains everything you need to export the perfect print files for your Original Prusa 3D printer. But of course, we also have the settings for the third party slicers like Simplify3D, Cura, etc.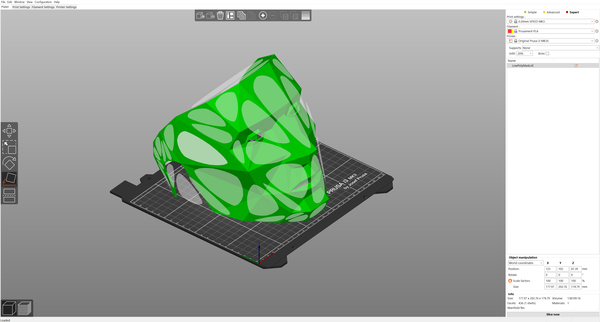 Discount program for Original Prusa MK3S+ assembled printer owners
Our discount program for the Original Prusa MK3S+ assembled printer owners gives you a 10% discount on five units of the assembled MK3S+ in subsequent orders and selected filaments.
How does it work?
To enter the discount program, you only need to purchase your first Original Prusa MK3S+ assembled printer for the full price. After the assembled printer is delivered to you, your Prusa account automatically applies the 10% discount on the assembled MK3S+ printers. So your next assembled MK3S+ printer will be discounted by 10% :-). Make sure to be always logged into your Prusa Account, to have the discount applied. The discount is limited by 5 printer units.
Along, with the discount on the assembled printers, the discount does apply to selected filaments too. Most importantly including our high-precision filament, the Prusament! This discount is limited by 30 spools of filament per year.